☄️Optifine – Download And Install – 1.7.10 → 1.16.5 / 1.17.1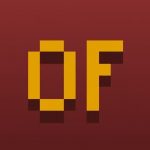 OptiFine is a mod to optimize the Java version of Minecraft. Over time it has become indispensable, it's a mod allowing Minecraft players to use an HD texture pack and shaders but also to improve the performance and FPS of Minecraft.
It allows Minecraft to run faster and render better with full support for HD textures while having many configuration options.
Download OptiFine
Now that you know everything you can do with OptiFine, you will ask yourself: how do I get OptiFine?
We provide you with the official download links for the latest versions of OptiFine. If you come across a blank page after clicking on a link below, disable your ad blocker to download OptiFine.
How do the versions of Optifine work ?
The development of Optifine is done on the fringe of that of Minecraft. When a new version of Minecraft is available, the developer of Optifine works on the task of releasing its compatible version. However, he works alone on the mod, so it can take several months before Optifine is functional in final version.
This is what happened with Optifine version 1.15. In December 2019 Minecraft 1.15 was released, in April 2023 Optifine 1.15.2 is still in development and the small percentage that is missing to go from 99% to 100% completion is very long. There is indeed a pre-release (the thirteenth dating from 02/04/2020) which supports shaders but still not Minecraft Forge. You have to be patient and trust the developer, I could read some comments on the same article that manage to complain against a mod that is offered for free.
Which version of OptiFine to choose ?
You have to choose the version of OptiFine that corresponds to the version of Minecraft you are playing on, for example :
if you are playing with Minecraft 1.15.2, you download OptiFine 1.15.2 HD
if you play with Minecraft 1.16.5, you download OptiFine 1.16.5 HD
if you play with Minecraft 1.17.1, you download OptiFine 1.17.1 HD
How do I install OptiFine ?
The installation of OptiFine is very simple, we simply recommend that you have a "clean" version of Minecraft. It is essential to install the version related to the Minecraft version you want, to play on Minecraft 1.17, download Optifine 1.17. To find out how to install OptiFine, follow these steps :
Steps to install OptiFine on Minecraft
Total Time: 5 minutes
Download the desired version of Optifine
All versions of Optifine are available on our website.
Execute the .jar file of the downloaded version of OptiFine.
You must have installed the latest version of java beforehand.
Click on " Install ".
The installation of Optifine will take only a few seconds.
OptiFine will be installed directly where your Minecraft game files are located.
You can now click on OK to close the installation process.
Launch Minecraft
From your desktop or shortcut
Select the installed "OptiFine" profile
You can now enjoy Optifine
How to install OptiFine with Forge ?
OptiFine and Minecraft Forge are two tools that are compatible up to a certain version. Just check in our table above depending on the version of OptiFine you download if it is compatible with the Forge executable. However to make them work together you will have to be careful to follow the following recommendations:
Start with a "clean" version of Minecraft (uninstall it, then download the latest version from the official website).
Download and install Forge
Drag the correct .jar version of OptiFine downloaded to the /mods folder.
Launch the Minecraft launcher and you can enjoy OptiFine and Forge at the same time!
How to change your OptiFine cape ?
To obtain a cape via OptiFine, you must have made a donation. Once this is done, you will be able to change the design of your cape:
Download and install OptiFine 1.17
Launch Minecraft with OptiFine
Go to Settings -> Skin Customization -> OptiFine Cape -> Open the Cape Editor
You will be automatically redirected to the cape editor page.
Why is OptiFine not directly integrated with Minecraft ?
The creator of OptiFine, sp614x, would have been contacted by Mojang in order to propose a buyout of his tool and a native integration to Minecraft.
However, the Minecraft developers did not want to add the full functionality of OptiFine to the tool. It is this misunderstanding that would have caused OptiFine not to be integrated by default into Minecraft.
How to configure OptiFine ?
OptiFine is very complete in terms of parameters and options, this will allow you to play in the best conditions according to your machine.
FPS boost

doubling the FPS is common
decreases lag spikes and smooths gameplay

Support for HD Textures

HD textures and HD fonts (MCPatcher not needed)
custom terrain and item textures
animated terrain and item textures
custom HD Font character widths
custom colors
custom block color palettes
custom lighting
unlimited texture size

Support for Shaders, see how to install shader

based on the Shaders Mod by Karyonix

Dynamic Lights

allows handheld and dropped light emitting items to illuminate the objects around them

similar, but not related to the Dynamic Lights

Variable Render Distance

from Tiny to Extreme (2 x Far) in 16m steps
sun, moon and stars are visible in Tiny and Short distance

Configurable Smooth Lighting

from 1% – smooth lighting without shadows
to 100% – smooth lighting with full shadows

Performance: VSync

Synchronizes framerate with monitor refresh rate to remove split frames and smooth gameplay

Smart Advanced OpenGL

more efficient, less artifacts
Fast – faster, some artifacts still visible
Fancy – slower, avoids visual artifacts

Fog control

Fog: Fancy, Fast, OFF
Fog start: Near, Far

Mipmaps

Visual effect which makes distant objects look better by smoothing the texture details
Mipmap level – OFF, 1, 2, 3, Max
Mipmap type – Nearest, Linear

Anisotropic Filtering

Restores details in mipmapped textures
AF level – OFF, 2, 4, 8, 16 (depends on hardware support)

Antialiasing

Smooths jagged lines and sharp color transitions
AA level – OFF, 2, 4, 6, 8, 12, 16 (depends on hardware support)

Better Grass

Fixes grass blocks side texture to match surrounding grass terrain

Better Snow

Fixes transparent blocks textures to match surrounding snow terrain

Clear Water 

Clear, transparent water with good visibility underwater

Random Mobs

Use random mob textures if available in the texture pack

Connected Textures

Connects textures for glass, glass panes, sandstone and bookshelf blocks which are next to each other.

Natural Textures 

Removes the gridlike pattern created by repeating blocks of the same type. Uses rotated and flipped variants of the base block texture.

FPS control

Smooth FPS – stabilizes FPS by flushing the graphics driver buffers
Smooth Input – fixes stuck keys, slow input and sound lag by setting correct thread priorities

Chunk Loading Control

Load Far – loads the world chunks at distance Far, allows fast render distance switching
Preloaded Chunks – defines an area in which no new chunks will be loaded
Chunk Updates per Frame – allows for faster world loading
Dynamic Updates – loads more chunks per frame when the player is standing still

Configurable Details

Clouds – Default, Fast, Fancy
Cloud Height – from 0% to 100%
Trees – Default, Fast, Fancy
Grass – Default, Fast, Fancy
Water – Default, Fast, Fancy
Rain and Snow – Default, Fast, Fancy
Sky – ON, OFF
Stars – ON, OFF
Sun & Moon – ON, OFF
Depth Fog – ON, OFF
Weather – ON, OFF
Swamp Colors – ON, OFF
Smooth Biomes – ON, OFF
Custom Fonts – ON, OFF
Custom Colors – ON, OFF
Show Capes – ON, OFF (supports HD capes)

Configurable animations

Water Animated – OFF, Dynamic, ON
Lava Animated – OFF, Dynamic, ON
Fire Animated – OFF, ON
Portal Animated – OFF, ON
Redstone Animated – OFF, ON
Explosion Animated – OFF, ON
Flame Animated – OFF, ON
Smoke Animated – OFF, ON
Void Particles – OFF, ON
Water Particles – OFF, ON
Rain Splash – OFF, ON
Portal Particles – OFF, ON
Dripping Water/Lava – OFF, ON
Terrain Animated – OFF, ON
Items Animated – OFF, ON

Fast Texturepack Switching

Switch the current Texturepack without leaving the world

Fullscreen Resolution

Configurable fullscreen resolution

Debug

Fast Debug Info – removes lagometer from debug screen
Debug Profiler – removes profiler from debug screen

Time Control

Default, Day Only or Night Only – works in only in Creative mode

Autosave

Configurable Autosave interval
A fix for the famous Lag Spike of Death
Frequently asked questions about OptiFine
❓ What is OptiFine used for ?
OptiFine allows you to optimize Minecraft in order to improve your FPS and thus the fluidity of the game.
🛠️ OptiFine works with Forge ?
The most recent versions of OptiFine are not compatible with Forge. Check in our table which ones are and which ones are not before downloading.
💿 With which versions of Minecraft is OptiFine compatible ?
To date, OptiFine is compatible with the following versions: 1.7.10, 1.8.9, 1.9.4, 1.10.2, 1.11.2, 1.12.2, 1.13.2, 1.14.4, 1.15.2, 1.16.5 and 1.17.1
❓ Is it possible to download OptiFine 1.17.1 ?
Yes OptiFine is compatible with Minecraft version 1.17.1
🔍 How to zoom with OptiFine ?
Press the Ctrl key. If that doesn't work change the zoom key by going to Options > Controls > Zoom.
🔧 Do I need to configure OptiFine to get better FPS ?
Usually not. OptiFine offers many optimizations that should increase FPS without configuration. You can further increase the frames per second by configuring the video settings and finding the quality/performance tradeoff that works best for you.
💻 How do I configure OptiFine for better FPS ?
Go to the Video Settings menu and see the tooltip displayed for each setting. It should indicate which value to set for better FPS and which for better quality.
🎮 Does Optifine change the gameplay of Minecraft ?
No, OptiFine simply improves the game's graphics and prevents the loss of FPS.
🍎 How do I put OptiFine on Mac ?
The procedure is the same as on Windows. Download the correct version and run the downloaded file.
💡 Why do some chunks of the world wobble with OptiFine ?
You have most likely enabled Chunk Loading: Multi-Core, but the graphics card driver does not support it properly. To fix this, go to the control panel of the graphics card and set "Threaded Optimization" or "OpenGL Threading" to OFF.