☄️Optifine – Descargar E Instalar – 1.7.10 → 1.16.5 / 1.17.1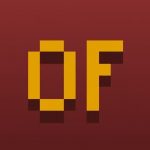 OptiFine es un mod para optimizar la versión Java de Minecraft. Con el tiempo se ha convertido en indispensable, es un mod que permite a los jugadores de Minecraft para utilizar un paquete de textura HD y sombreadores, sino también para mejorar el rendimiento y FPS de Minecraft.
Permite a Minecraft para ejecutar más rápido y rendir mejor con el pleno apoyo a las texturas de alta definición, mientras que tiene muchas opciones de configuración.
Descargar OptiFine
Ahora que sabes todo lo que puedes hacer con OptiFine, te preguntarás: ¿cómo consigo OptiFine?
Le proporcionamos los enlaces oficiales de descarga de las últimas versiones de OptiFine. Si se encuentra con una página en blanco después de hacer clic en un enlace de abajo, deshabilite su bloqueador de anuncios para descargar OptiFine.
¿Cómo funcionan las versiones de Optifine?
El desarrollo de Optifine se hace al margen de la de Minecraft. Cuando una nueva versión de Minecraft está disponible, el desarrollador de Optifine trabaja en la tarea de liberar su versión compatible. Sin embargo, él trabaja solo en el mod, por lo que puede tomar varios meses antes de Optifine es funcional en la versión final.
Esto es lo que pasó con la versión 1.15 de Optifine. En diciembre de 2019 Minecraft 1.15 fue liberado, en abril de 2022 Optifine 1.15.2 está todavía en desarrollo y el pequeño porcentaje que falta para pasar del 99% al 100% de finalización es muy largo. De hecho, hay un pre-lanzamiento (el decimotercero que data del 02/04/2020) que apoya los shader, pero aún no Forge. Hay que tener paciencia y confiar en el desarrollador, he podido leer algunos comentarios en el mismo artículo que consiguen quejarse de un mod que se ofrece de forma gratuita.
¿Qué versión de OptiFine elegir?
Usted tiene que elegir la versión de OptiFine que corresponde a la versión de Minecraft que está jugando, por ejemplo :
si usted está jugando con Minecraft 1.15.2, usted descarga OptiFine 1.15.2 HD
si usted juega con Minecraft 1.16.5, usted descarga OptiFine 1.16.5 HD
si usted juega con Minecraft 1.17, usted descarga OptiFine 1.17 HD
¿Cómo instalo OptiFine?
La instalación de OptiFine es muy simple, simplemente recomendamos que tenga una versión «limpia» de Minecraft. Es esencial para instalar la versión relacionada con la versión de Minecraft que desea, para jugar en Minecraft 1.17, descargar Optifine 1.17. Para saber cómo instalar OptiFine, siga estos pasos :
Pasos para instalar OptiFine en Minecraft
Se necesita tiempo : 5 minutos
Descargue la versión deseada de Optifine
Todas las versiones de Optifine están disponibles en nuestro sitio web.
Ejecute el archivo .jar de la versión descargada de OptiFine.
Debe tener instalada la última versión de Java de antemano.
Haga clic en «Instalar».
La instalación de Optifine sólo tomará unos segundos.
OptiFine se instalará directamente donde se encuentran los archivos de su juego Minecraft.
Ahora puede hacer clic en Aceptar para cerrar el proceso de instalación.
Lanzar Minecraft.
Desde tu escritorio o un atajo.
Seleccione el perfil «OptiFine» instalado.
Ahora puedes disfrutar de Optifine.
¿Cómo instalar OptiFine con Forge?
OptiFine y Minecraft Forge son dos herramientas que son compatibles hasta una cierta versión. Sólo tiene que comprobar en nuestra tabla de arriba dependiendo de la versión de OptiFine que descargue si es compatible con el ejecutable de Forge. Sin embargo, para que funcionen juntos, tendrás que tener cuidado de seguir las siguientes recomendaciones:
Comience con una versión «limpia» de Minecraft (desinstálela, y luego descargue la última versión de la página web oficial).
Descargar e instalar Forge
Arrastre la versión correcta .jar de OptiFine descargada a la carpeta /mods.
Lance el lanzador de Minecraft y usted puede disfrutar de OptiFine y Forge al mismo tiempo!
¿Cómo cambiar su capa OptiFine?
Para obtener una capa a través de OptiFine, usted debe haber hecho una donación. Una vez hecho esto, usted será capaz de cambiar el diseño de su capa:
Descargue e instale OptiFine 1.17
Lanzar Minecraft con OptiFine
Ve a Configuración -> Personalización de la piel -> Capa OptiFine -> Abre el Editor de Capas
Serás redirigido automáticamente a la página del editor de la capa.
¿Por qué OptiFine no está directamente integrado con Minecraft?
El creador de OptiFine, sp614x, habría sido contactado por Mojang con el fin de proponer una compra de su herramienta y una integración nativa a Minecraft.
Sin embargo, los desarrolladores de Minecraft no quería añadir la funcionalidad completa de OptiFine a la herramienta. Es este malentendido que habría causado OptiFine no ser integrado por defecto en Minecraft.
Preguntas frecuentes sobre OptiFine
❓ ¿Para qué se utiliza OptiFine?
OptiFine le permite optimizar Minecraft con el fin de mejorar su FPS y por lo tanto la fluidez del juego.
🛠️ OptiFine trabaja con Forge ?
Las versiones más recientes de OptiFine no son compatibles con Forge. Compruebe en nuestra tabla cuáles son y cuáles no antes de descargar.
💿 ¿Con qué versiones de Minecraft es compatible OptiFine ?
Hasta la fecha, OptiFine es compatible con las siguientes versiones: 1.7.10, 1.8.9, 1.9.4, 1.10.2, 1.11.2, 1.12.2, 1.13.2, 1.14.4, 1.15.2, 1.16.5 y 1.17.1
❓ ¿Es posible descargar OptiFine 1.17.1 ?
Sí. OptiFine es compatible con la versión 1.17.1 de Minecraft.
🔍 ¿Cómo hacer zoom con OptiFine?
Pulse la tecla Ctrl. Si eso no funciona, cambie la tecla de zoom yendo a Opciones > Controles > Zoom.
🔧 ¿Tengo que configurar OptiFine para obtener un mejor FPS ?
Normalmente no. OptiFine ofrece muchas optimizaciones que deberían aumentar el FPS sin configuración. Usted puede aumentar aún más los cuadros por segundo configurando los ajustes de video y encontrando la compensación de calidad/rendimiento que funcione mejor para usted.
💻 ¿Cómo configuro OptiFine para un mejor FPS?
Vaya al menú Video Settings y vea la información de herramientas que se muestra para cada configuración. Debe indicar qué valor configurar para un mejor FPS y cuál para una mejor calidad.
🎮 Optifine cambia el juego de Minecraft ?
No, OptiFine simplemente mejora los gráficos del juego y evita la pérdida de FPS.
🍎 ¿Cómo puedo poner OptiFine en Mac ?
The procedure is the same as on Windows. Download the correct version and run the El procedimiento es el mismo que en Windows. Descargue la versión correcta y ejecutar el archivo descargado.
💡 ¿Por qué algunos trozos del mundo se tambalean con OptiFine?
Lo más probable es que haya activado la carga de trozos: Multi-Core, pero el controlador de la tarjeta gráfica no lo soporta correctamente. Para solucionarlo, ve al panel de control de la tarjeta gráfica y pon «Optimización de hilos» o «Hilo de rosca OpenGL» en OFF.