Steam Deck price, specs, release date, and everything we know about Valve's new handheld gaming device
We're not far away from the launch of the Valve Steam Deck: a handheld device that can supposedly play any game in your Steam Library. It's aiming to be the Nintendo Switch of PC gaming, essentially, and from our hands-on experience, and recently leaked benchmarks, it appears plenty fit to deliver on that promise.
That's because it's not a games console, it's really a portable PC. You can plug it into a monitor or a TV, install apps and software, use it to watch streaming video, and more—even install other game stores on it, according to Valve. The Steam Deck will run on a new version of SteamOS, Valve's Linux-based operating system, though you'll be able to play Windows games that don't have official Linux support using Valve's compatibility tech, Proton (Steam Play), or even uninstall SteamOS and just install Windows.
Here's everything we know about the Steam Deck.
Steam Deck Release date
When is the Steam Deck release date?
The Steam Deck will begin shipping in December 2023.
However, that doesn't mean if you reserve one you'll receive it this year, as the Steam Deck site is now showing "expected order availability" after Q2 2023 for each version of the Deck across both the UK and US. 
Currently a Steam Deck can be reserved if you put down a $5 (£4) deposit, and thankfully most of the initial complications in reserving have seemingly past us by. 
The $5 deposit will go toward the cost of the Steam Deck if you do decide to order one, though it'll be refunded if you change your mind and decide to cancel. 
"When inventory is available, customers will be notified in the order reservations were made to make their purchase," says Valve.
The Steam Deck is currently only available to reserve for the US, UK, Canada and the European Union. The first Steam Decks reserved will ship in December, but the expected fulfillment date has pushed into 2023 as reservations stack up. Valve has become increasingly vague as to when late Steam Deck reservations will be fulfilled with new reservations only being given an 'After Q2 2023' timeframe, which basically means sometime after June next year.
On the flip side, you won't have to deal with the trial some faced when the reservations first went live. Steam's servers were immediately overwhelmed, and customers trying to reserve a Steam Deck were faced with timeouts and error messages. Others were seeing messages that their Steam accounts have been created too recently to reserve a Steam Deck, though many seeing this message say they've had their Steam accounts for years (including some staff members of PC Gamer).
Steam Deck Price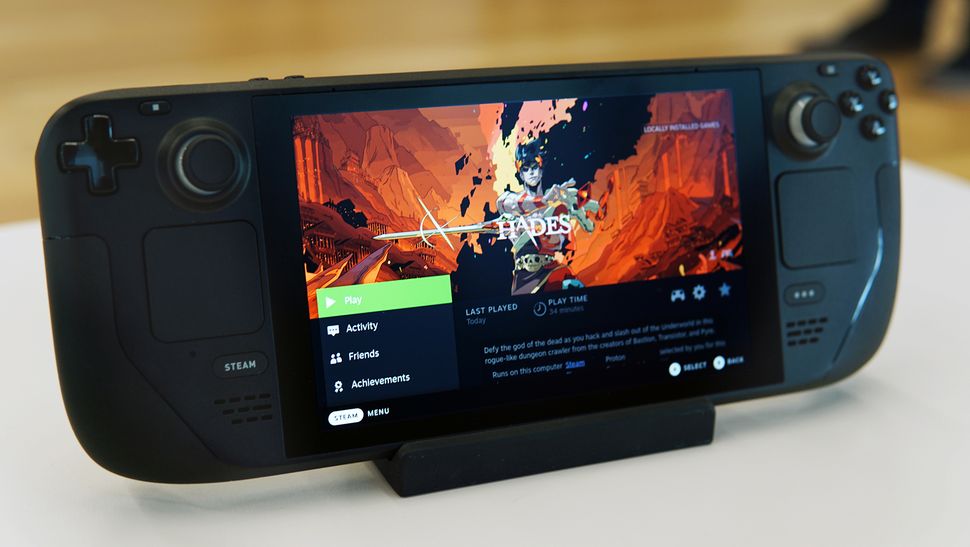 How much does the Steam Deck cost?
The price of the Steam Deck depends on which version you want, and there are three different versions based on storage size. The Steam Deck costs:
$399 for the 64GB version
$529 for the 256GB version
$649 for the 512GB version 
The more expensive versions of the Steam Deck feature faster NVMe SSD storage, while the cheaper is listed with a 64GB eMMC (embedded multi-media card) storage solution. All three versions will let you increase storage space with a MicroSD card, at least.
If you plan to upgrade the storage, you'll likely want to spend a bit more cash on a faster MicroSD card for quicker loading times. We're not sure how expansion storage will work on the device just yet, but some MicroSD cards are going to feel extremely slow next to a super-fast SSD.
Steam Deck Specs
What are the Steam Deck specs?
The Steam Deck specifications were revealed by Valve alongside the console itself, which means we know all about what lies beneath the console's 7-inch screen.
The most important thing to note for PC gamers is that the Steam Deck runs on an AMD APU, and one we're yet to see elsewhere. This chip is built around two key AMD architectures: Zen 2 and RDNA 2.
The Zen 2 architecture is the same one found within AMD Ryzen 3000 processors, and within the Steam Deck reside four Zen 2 cores, capable of eight threads, ready and waiting for your portable gaming needs.
The RDNA 2 architecture is behind the handheld PC's graphical grunt. The Steam Deck comes with 8 Compute Units (CUs) for a total of 512 cores. That's not a massive amount—the Xbox Series S comes with 20 RDNA 2 CUs—but it appears enough to get by at 720p without too much hassle.
Steam Deck specs

| | Steam Deck |
| --- | --- |
| CPU | AMD Zen 2 |
| Core count | 4-core/8-thread |
| CPU clock speed | 2.4–3.5GHz |
| GPU | AMD RDNA 2 |
| GPU Compute Units | 8 |
| GPU clock speed | 1–1.6GHz |
| RAM | 16GB LPDDR5 @ 5,500MT/s 32-bit quad-channel |
| Storage | 64GB eMMC / 256GB NVMe SSD / 512GB NVMe SSD |
| Display | 7-inch LCD touchscreen |
| Resolution | 1280 x 800 |
| Refresh rate | 60Hz |
| Audio | Stereo speakers, 3.5mm jack, dual mics, USB Type-C/Bluetooth |
| Connectivity | Wi-Fi, Bluetooth, USB Type-C with DisplayPort 1.4 support |
| Battery | 40Whr |
| Size | 11.7 x 4.6 x 1.8-inch (298 x 117 x 49mm) |
| Weight | Approximately 1.47 lbs (669 grams) |
| Price | $399 (64GB) / $529 (256GB) / $649 (512GB) |
As mentioned before, there are three different storage configurations for the Steam Deck: 64GB, 256GB, and 512GB. 
Ideally, we'd all pick up the 512GB model. Games are big and anything smaller than that is going to feel a tight squeeze. It's also kitted out with a speedy NVMe SSD, which allows for bandwidth upwards of 3,000MB/s. That really depends on Valve's choice of SSD, however. Speeds vary quite a lot between drives. 
The 256GB model is similarly quick, and would be a suitable pick for those willing to put up with slightly less storage space.
As for the 64GB model, we're not quite as convinced. It's built using an eMMC drive, which won't match an NVMe SSD in terms of speed, but most of all its slim capacity is almost unimaginable for a gaming PC. Perhaps as an indie machine, but then you might be better off buying a Nintendo Switch.
All three offer MicroSD for further expansion, and we suspect the faster the MicroSD, the better for optimal game load times.
Valve's decided upon a 1280 x 800 display through which you'll enjoy your games on-the-go. A 60Hz LCD panel with 400-nits brightness, there's not a great deal to write home about in regards to the Steam Deck's touchscreen. However, seeing as it's only 7-inches big, its shortcomings may not be as immediately noticeable as one of the best gaming monitors.
Lastly, Valve recently corrected the RAM specification for the Stream Deck, actually improving the memory specification beyond what it had first announced. We're now looking at 16GB of quad-channel LPDDR5 at 5,500MT/s, instead of the dual-channel RAM that was first listed. That's a big deal for an APU-powered machine like this—the more memory bandwidth, the merrier.
Steam Deck gaming performance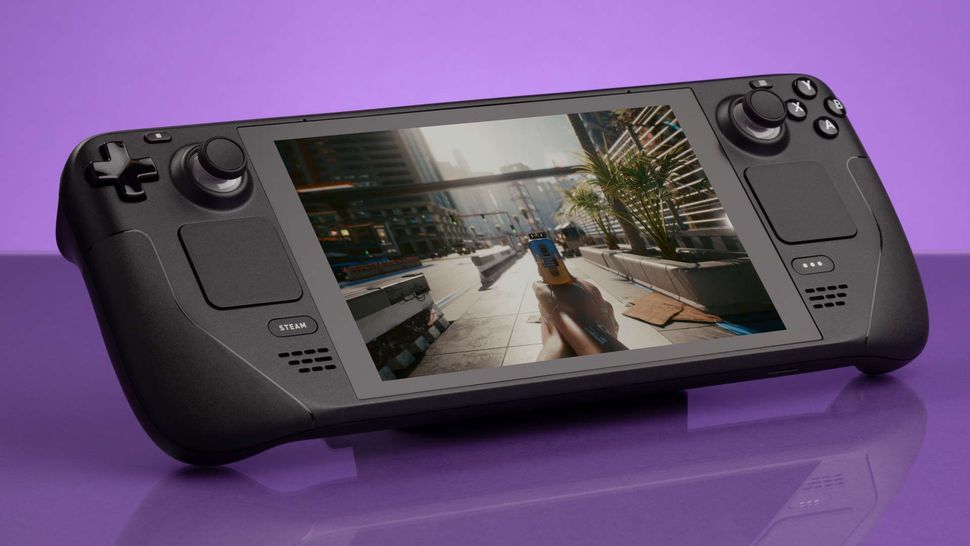 What is the Steam Deck's gaming performance like?
Valve has stated that it has a basic 30 fps target for general gaming performance on the Steam Deck, and with the recently leaked frame rate figures shown by the developer kits out in the wild, that certainly looks the case.
A user in China has got their hands on a dev kit and has published a number of benchmarks of graphically intensive modern games. And DOTA 2. They've tested Shadow of the Tomb Raider, DOOM, and Cyberpunk 2077, too, so you do get a decent spread of performance.
| | Settings | Average frame rate |
| --- | --- | --- |
| Shadow of the Tomb Raider | Highest | Custom | 30 fps | 60 fps |
| DOOM | Custom | Medium | 46 fps | 60 fps |
| Cyberpunk 2077 | High | 20 – 30 fps |
| DOTA 2 | Highest | Low | 47 fps | 80 fps |
As you might expect, Cyberpunk is tough on the AMD silicon at the heart of the Deck, but that's with the gaming running on the High preset. Knock the fidelity settings down a few notches and you'll be able to get smooth gaming frame rates at Medium or Low settings.
Considering just how visually intensive the game is, that's seriously impressive.
Also impressive are those Shadow of the Tomb Raider figures. Being able to hit 60 fps in the most recent of Lara's jaunts, without resorting to potato settings, means the Steam Deck is genuinely going to be a handheld gaming PC contender. 
DOOM, too, is able to deliver 60 fps when using the Medium preset, and DOTA 2, though not the most intensive game out there, is still able to run at its highest preset at 47 fps.
And, considering this is non-native Linux gaming running on pre-release hardware, the fact that Cyberpunk 2077 was the only game to crash—and even then only once—well, that's pretty damned impressive.
Steam Deck FAQ
Is the Steam Deck any good?
We've had a man at Valve to try and answer that very question. Wes Fenlon writes in his Steam Deck hands-on impressions that "When it works, you can almost forget that the games you're playing on the Steam Deck were never designed for a portable machine."
Sure sounds like high praise for Valve's maiden handheld. It's still early days for the Steam Deck, though, and the model Wes used was months away from the finished product. We suspect most of the work from now on will be on the software side of things, primarily Steam OS.
"SteamOS 3's new design looks great, but it isn't as seamless yet as a console UI. But Valve has months left to work out these bugs. And for the most part, it just worked."
A promising glimpse of what's to come, that's for sure.
How do I check my Steam Deck delivery date?
If you head to the Steam Deck store page on the account which you made your Steam Deck reservation, you will find an expected order availability listed beneath the cancel button (don't press this).
A word of warning, however: a few members of the PC Gamer team with reservations are yet to see an order availability update on the store page. We expect updates over the course of the next few days, so sit tight.
Does the Steam Deck have a kickstand?
That's a hard 'no' from Valve itself. Though in the press images you can see the Deck sitting in a dock, which props the device up at an angle so you can see the screen. Whether this is the promised USB Type-C Deck dock Valve has been talking about pre-launch, or an off-the-shelf number we don't yet know.
What game will run on the Steam Deck?
Valve has been talking about game performance on its new handheld gaming PC and says "All the games we want to be playable is, really, the entire Steam library. We haven't really found something we could throw at this device that it couldn't handle."
"We've achieved the level of performance that is required to really run the latest generation of games without problems."
The fact that Valve has been testing games from the last year on the Deck without issue suggests that maybe SteamOS 3.0's update to Proton will give greater compatibility for Windows-based games on its Linux operating system.
We know that one issue with Proton, which prevents some online games from running using it, boils down to anti-cheat software incompatibility. That could be solved in the near-future, however, as the founder of Garry's Mod and Rust studio Facepunch Studios has confirmed the studio is helping Easy Anti Cheat on its quest to improve Proton support. 
Is the Steam Deck bigger than the Nintendo Switch?
A bit, yes. For comparison, the Nintendo Switch (standard version) is 9.4″ x 4″ x .55″ and weighs just under a pound. So the Steam Deck is a couple inches wider, half an inch taller taller, considerably thicker and a bit heavier than the Switch.
Anything I should be concerned about?
Well, yeah. Battery life doesn't sound especially stellar, with Valve developer Pierre-Loup Griffais telling IGN: "It's about 2-8 hours, depending on what you're doing. You can play Portal 2 for four hours on this thing. If you limit it to 30 fps, you're going to be playing for 5-6 hours."
That's not a heck of a long time for gaming without the device needing to be plugged in or recharged, and more demanding games will take a bigger toll on the battery than 2011's Portal 2. That could be a real issue if you want to take your Deck with you while traveling or if you're away from an electrical outlet for a while.
Does the Steam Deck come with a dock, like the Nintendo Switch?
There is a dock, but it's sold separately. Like the Switch, there's a dock for the Steam Deck that will allow you to connect it to your TV or a monitor. The USB Type-C dock will provide DisplayPort and HDMI output, an Ethernet adapter, and three USB inputs.
The dock doesn't come with the Steam Deck, though. Valve hasn't yet revealed how much the dock will cost or when it'll be available to order.
Can I use the Steam Deck for more than just Steam games?
You can—potentially a lot more. Just like your PC, the Steam Deck is intended to be an open platform. You can install Windows on a Steam Deck and even install other game storefronts like the Epic Store (you probably have a pile of free games in that library) or Xbox Game Pass. We just don't really know how well non-Steam games will work on the Steam Deck, but it's an exciting idea that you might be able to play games from your other libraries on the Steam Deck, too.
You can even wipe SteamOS off the Steam Deck completely and just use it to run Windows, according to IGN, who got some hands-on time with the device. Pierre-Loup Griffais told IGN the Steam Deck "can pretty much run anything you can run on a PC."
"We don't think people should be locked into a certain direction or a certain set of software that they can install," Valve designer Lawrence Yang said. "If you buy a Steam Deck, it's a PC. You can install whatever you want on it, you can attach any peripherals you want to it."
If all that isn't enough information for you, you can visit the official Steam Deck website here. 
Is the Steam Deck one and the same with the rumoured SteamPal?
It would certainly look that way! The previously rumoured SteamPal may have been a glimpse of what would become the Steam Deck.
In fact, Valve has admitted to having many names for Steam Deck prototypes that didn't make it. Our favourite has to "Ugly Baby".